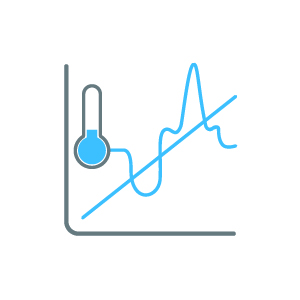 X-ray Reflectometry (XRR)
This glancing-angle x-ray technique is applicable to thin films of all material types: transparent or opaque, amorphous, polycrystalline, or single-crystal. XRR provides film thickness, density, surface and interface roughness information from single films or complicated film stacks.
During an XRR measurement, copper x-rays strike the wafer surface at a shallow angle, and the incidence angle is increased over the range of a few degrees. Below a certain incidence angle known as the critical angle, that depends on the surface material, the x-rays are totally externally reflected. As the incidence angle increases beyond the critical angle, the x-rays penetrate into and interact with the film(s) resulting in the measured fringe pattern.
The critical angle in an XRR pattern is related to the density of the top film. The frequency of the fringes in an XRR pattern is related to the film thickness: the higher the frequency, the thicker the film. Film density and roughness affect the amplitude and decay of the fringe intensities.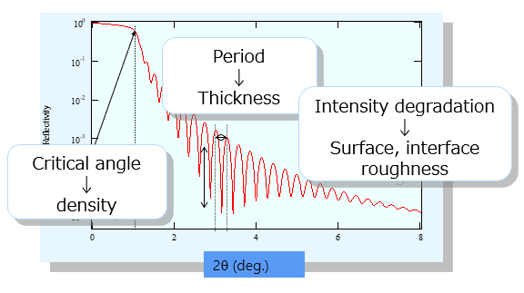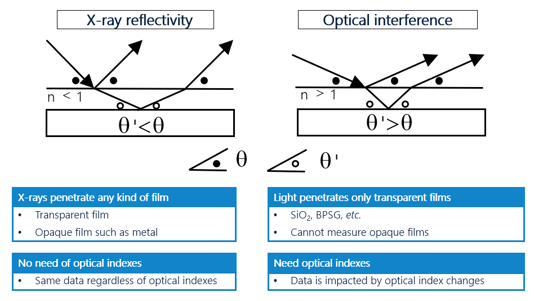 Depending on the instrument configuration
XRR can generally characterize films ranging from ~1nm to several hundred nanometers. The technique can generally distinguish between films in a stack that have at least ~5% density difference.
XRR is a first-principles (absolute) technique that requires no calibration. In fact, XRR is often used to characterize thickness standards for XRF measurements. Light optical techniques require knowledge of optical indexes of materials for analysis and those values can vary in ultrathin films. In contrast, the refractive indexes of x-rays are very close to one for all materials making XRR ideally suited to characterize films films ≤10 nm.
RECOMMENDED RIGAKU SEMICONDUCTOR METROLOGY TOOLS