FILM THICKNESS AND COMPOSITION MEASUREMENTS ON WAFERS AND MEDIA DISKS
The WDA-3650 X-ray fluorescence spectrometer for thin film evaluation continues Rigaku's >40-year history of XRF wafer analyzers that has mirrored the history of thin film device development. This latest XRF metrology tool contributes significantly to the process control of metal film thickness, film composition, and element concentration with new functions and a low-COO design.
XRF TOOL FOR 200MM WAFERS
A versatile and reliable tool for 200 mm and smaller wafers, the WDA-3650 incorporates our trademark X-Y-θ sample stage system for superior results on difficult measurements, such as ferrodielectric films. Multiple channels enable simultaneous measurement of multiple elements of interest for high throughput. The high energy resolution of this wavelength-dispersive XRF system, compared to energy-dispersive XRF systems, is especially useful to minimize peak overlap when element peaks are closely spaced.
SUPERIOR BORON (B) MEASUREMENT
For boron applications, the available AD-Boron channel provides 5-times greater sensitivity than previous models. The AutoCal function and built-in internal wafer stocker, previously only available on 300mm tools, enable fully-automated daily tool qualification and intensity calibration.
COMPACT EFFICIENT DESIGN
The WDA-3650 is extremely compact with the basic unit requiring less than 1 m2 of valuable cleanroom space, and there is no need for side maintenance service access. Power consumption has been reduced more than 20% compared to the previous model.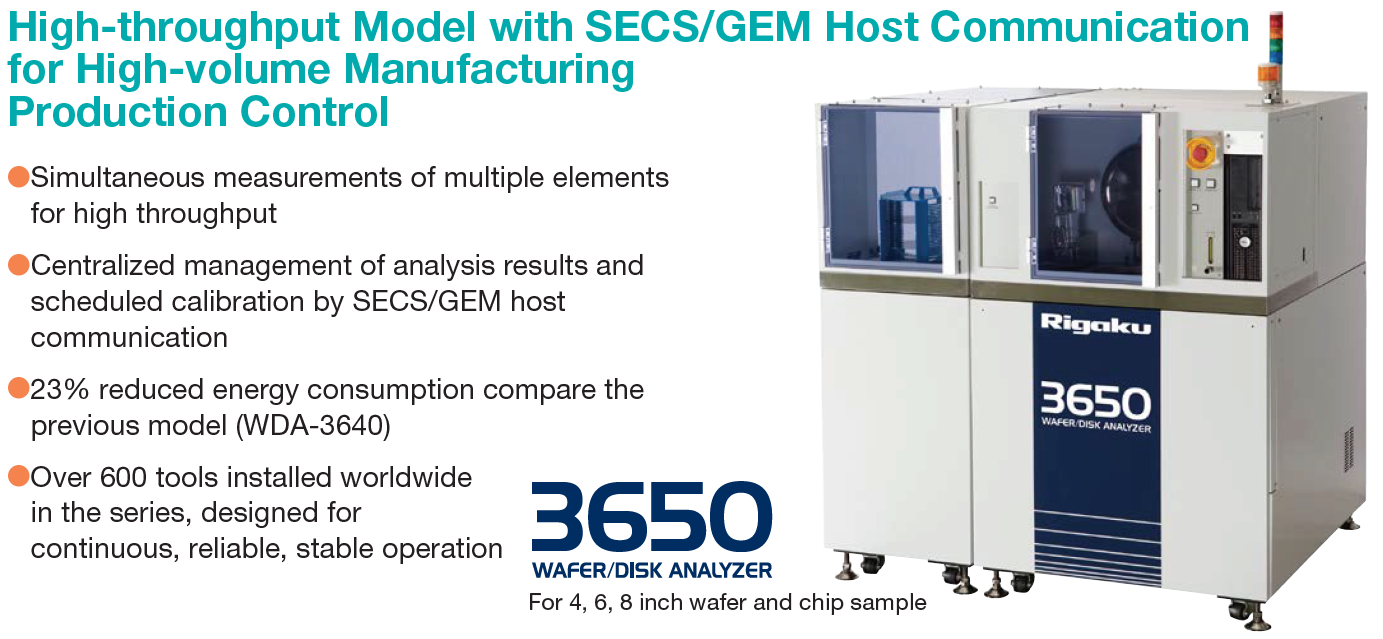 FEATURES & BENEFITS
Patented "diffraction avoidance" capability for accurate XRF results
High-sensitivity Boron analysis (with AD-Boron channel)
Solid-state, oil-free x-ray generator
FOUP, SMIF, and through-the-wall configurations are available to meet the various needs of high-volume manufacturing wafer fabs
TRUSTED PARTNER
WHO WE ARE
Pharmaceuticals have the power to change the world for the better, but before they can ever do that, they need to be proven safe and trustworthy. Here at Rigaku, we strive to make this a reality as the leading global scientific analytical instrumentation company specializing in X-ray and thermal analysis, and Raman spectroscopy.

CORPORATE MISSION
To contribute to the enhancement of humanity through scientific and technological development.

CORPORATE MOTTO
Value our customers, value our people, and value our technology
HOW WE WORK WITH YOU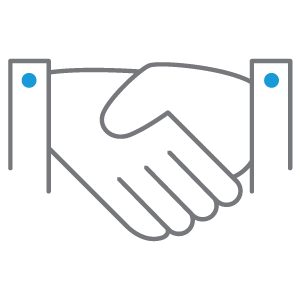 1 - FREE CONSULTATION
A CALL TO UNDERSTAND YOUR CHALLENGES
NEED TO REDUCE COSTS?
NEED A SPECIFIC APPLICATION?
HOW CAN WE HELP YOU?
CONTACT US
2 - GET A DEMO
SCHEDULE A DEMO ON YOUR TERMS
ON-DEMAND RECORDINGS
LIVE VIRTUAL & CUSTOM
IN-PERSON GROUPS & INDIVIDUAL
GET A DEMO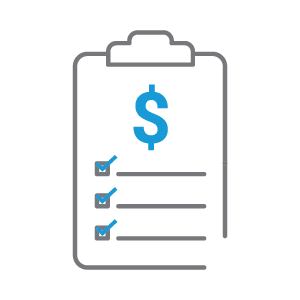 3 - GET A QUOTE
BUILD SOLUTIONS PACKAGE RIGHT FOR YOUR NEEDS
TECHNOLOGY
INSTALL & TRAINING
SUPPORT & SERVICE
GET A QUOTE